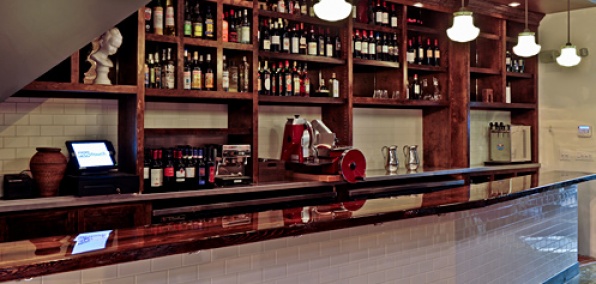 Kobe sliders. Airline nips. Danny DeVito.

The best things in life really do come in small packages.

Here to drive that point home is Coppa, the long-awaited South End enoteca finally opening its doors for you this Wednesday.

A sliver of an Italian bar and restaurant from the folks behind Toro, Coppa is where you'll want to linger for hours with coworkers or a date (for some reason, it feels to us like a second-date spot), cozying up with a corner view of Shawmut Avenue and looking on with mouthwatering delight as the house-cured meats are carved in front of you on a handsome slicer behind the bar (it's always interesting to watch sculptors work).

But it's the Italian bar bites ("stuzi") that will really be driving you wild, like traditional deep-fried zucchini served with ricotta cheese, and Arancini, fried risotto balls with fontina cheese—and they're all just five bucks.

Wash them down with an Aperol Spritz—an orange liqueur cordial infused with prosecco and soda—or the Lenny e Joan, made with sloe gin, vermouth, Cynar aperitif and a sugar rim.

Much better than the Lenny e Squiggy.