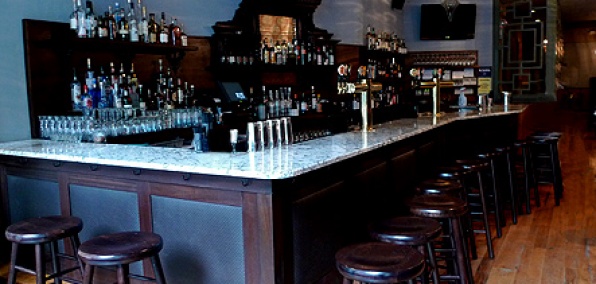 Tonight, we're planning an escape to somewhere exotic.
Its name: Pittsburgh.
Actually, scratch that: we're taking you to the Flatiron District—where a rustic, elegant Penn-bred tavern is taking root. And it brought corn dogs and foie gras...
Welcome to
Rye House
, your new home for after-work Pennsylvanian revelry and intense cocktailoring, open right this minute.
Think of it as the sweet little farmhouse where you unwind after hours, only it's in lower Manhattan and serves better cocktails. (Credit the mixologists behind the bar, who have also slung drinks at Freemans and Woodson and Ford.) Settle in at the granite bar under rustic light fixtures for
small plates
like
Pork Belly Empanadas
and
Drunken Mussels
.
But your real decision is what to drink. There are a dozen craft brews (including Sixpoint Righteous rye ale and Dale's Pale Ale) on tap, but allow us to recommend the
Appleseed Cobbler
(Maker's Mark, Applejack, cinnamon bark syrup, apples) or the Manhattan with house-made rye.
Then, head back to the 25-person communal picnic table (made from reclaimed Pennsylvania wood). The comfort foods are enticing (think of a
Duck, Foie Gras, and Duck Ham Quesadilla
), but consider saving your appetite for the soon-to-be-legendary
Pittsburgh
, inspired by the Steel City's notorious sandwich shop Primanti's. It comes with provolone, sausage, house slaw and fries—all of which are piled high inside the Pullman loaf. It was originally made for truckers so they could have fries and slaw while they drove.
Taxi drivers are going to be all over this.