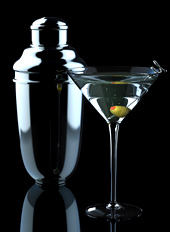 In this corner: the classic cocktail of classic cocktails. (Also, one third of a healthy lunch.)
And in this corner: a legendary, sometimes forbidden Gallic delight, quite possibly the richest, fattiest and tastiest substance on earth.
Clearly, they've been apart for far too long.
Ladies and gentlemen, prepare yourselves for the wonder that is the
Foie Gras Martini
, a garnished mix of two of the world's most delectable foodstuffs, currently on the menu at Andre's.
In short, it's all the absurdly lavish excess that makes Vegas great, transformed into a single cocktail via the magic of molecular gastronomy. It'll arrive at your table in an unusually tall martini glass, the savory foie mixed into a measure of house vodka along with a few vanilla beans and a dash of honey. Add a few lightly muddled huckleberries in the glass and a set of desserts on the side, and you've got one of the richest drinks you've ever tasted—not to mention enough protein to count as dinner.
And if you feel the need to experience absolutely every kind of Sin City excess at once, just ask for it in a rocks glass and take your concoction on a tour of the Monte Carlo's gaming floor.
Gin and vermouth had it coming.