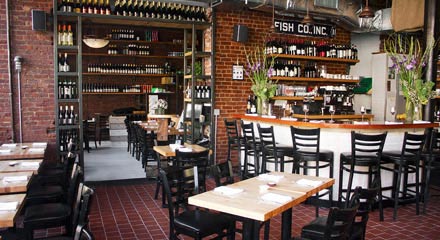 It's the quandary of your generation: cook in or dine out. (That, and tie or no tie.)
And while we'd typically say dine out—and lose the tie—you'll soon have a rather unique opportunity to stop by one place to do either:
Market Table
, opening at the end of the week.
By now you've probably heard the story with Market Table—it's part tiny gourmet grocery, part tiny restaurant. But the real advantage of this West Village spot is that you can actually show up, check with the counter clerk to see what's fresh, and then decide whether you want to collect supplies for a night in or grab a table for an intimate dinner. (Procrastination is a beautiful thing.)
Making this last-minute decision possible is the pedigree of Market Table's foods. The shop/restaurant gets its meats from Pat LaFrieda, supplier of the Spotted Pig, Shake Shack and Little Owl—which means you can essentially pick up a Little Owl pork chop or a Shake Shack burger at the meat counter, take it home and grill it yourself. Or, if you're feeling like a meal that you have
no
chance of preparing without a chef present, you can step into the window-lined, Canadian-beamed 40-seat restaurant and let experts Joey Campanero and Mike Price (The Mermaid Inn) serve you some
Ostrich Meat
,
Braised Lamb Shank
and
Bacon Wrapped Diver Scallops
.
And whether you stay or go, you might want to grab some fresh flowers from the grocery side on your way out.
She'll love your newfound versatility.