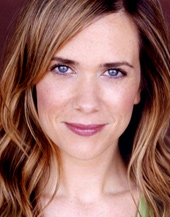 You may instantly break into deep, meaningful laughter with the mere utterance of SNL leading lady
Kristen Wiig's
name, but it turns out she has quite the dramatic side. As she prepares to go serious for the first time in a dramatic short film called
One Night Only
, we had a little chat with Kristen about sleazebag husbands, switchblades and good tacos. Not all at once, though.
UD: You're funny.
Kristen Wiig: Thank you. I like that question.
UD: So, coming from SNL, how did you get involved in a short independent drama?
KW: Well, my boyfriend is in the film. I'm not sure how my name came up…
UD: Does your boyfriend play your husband?
KW: He plays the other man. My husband is a bit of a sleazebag [laughing]. It's a little uncomfortable, but it's supposed to be…
UD: It seems the film is about relationships in NY—what types of guys make up the men of Manhattan?
KW: You know, I wish I knew… My job is a six-day-a-week job. And also I have a boyfriend, so I can't really investigate the men of Manhattan [laughing]. And nor would I want to. Nor would I want to…because I have a boyfriend… Ha-ha, bad joke.
UD: There are no bad jokes, just no laughter.
KW: Oooh, I like that… I'm going to remember that…
UD: You filmed at The Living Room on the Lower East Side. Have you ever hung out there before?

KW: I've actually been there a couple of times to hear some music. It's a cool place…
UD: Any other favorite haunts?
KW: One of my favorite restaurants is the
Little Owl
. I kind of prefer small, dark little restaurants. We just went to a little Mexican place last night with 10 tables. Mair-cah-deee-toe?
UD: Yeah, Mercadito, good tacos.
KW: We like a lot of the hole-in-the-wall places that people don't know about, so I don't really want to say what they are…[laughing].
UD: Do you get mobbed when you go out?
KW: Some people actually do lines from the show. But I'm not getting hounded by the paparazzi or anything like that.
UD: Working six days a week at 30 Rock probably makes it hard for them. Did you like getting to shoot somewhere different in New York for One Night Only?
KW: I loved it! I just feel like I don't get to spend enough time here.
UD: If you could live in any era in New York, what would it be?
KW: Seventies. Absolutely. People just kind of got up and moved to New York. And the movies that were made in '70s New York just painted such a different picture. It's just so rough and parts of it are scary and it's still the amazing city that it is now.
UD: Do you wish it were scarier now?
KW: Ha-ha, yeah, I want to live in a really bad neighborhood. I just want to walk around with a switchblade and a leather jacket. Kidding…