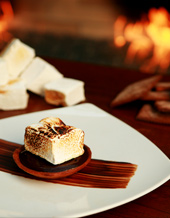 School taught you that water freezes at 32 degrees Fahrenheit.
But in LA, where things have always been done a bit differently, we put it at the low 70s.
Welcome to your new favorite booze-soaked ice-skating rink
Chill
, launching Sunday where you'd usually find the
outdoor swimming pool
at the W Hotel.
You'll want to bundle up—or just leave on your T-shirt—to enter this not-so-blustery, sun-baked winter wonderland. Once you've made your way through the lobby and out onto the pool deck, you'll find the water covered with a synthetic hybrid ice. (They say it's better for the environment than the real stuff—though, sadly, this eliminates the need for a mini-Zamboni.)
Rent some skates or bring your own, and if you need to fuel up for your triple salchows, grab a blanket, pull out your sunblock and wait for your
Roasted Tomato Soup
With Three-Cheese Panini
to arrive, alongside a
S'mores Tart With Star Anise Honey and Chocolate Sauce
. And, of course, you'll want a round or two of
Spiked Pumpkin Lattes
or
Adult Hot Chocolates
.
The rink is open until 10pm every night, so it's a good way to inject a little faux Rockefeller Center romance into your Westside date night.
If you squint your eyes, those palm trees look like Norway spruces…