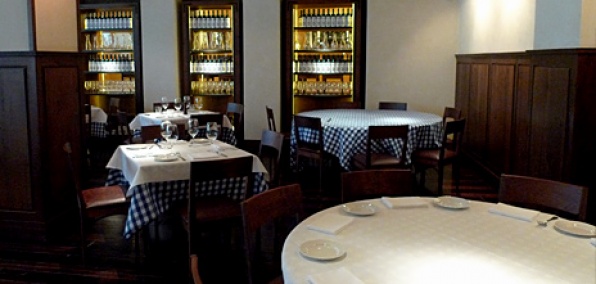 The long, narrow hall of a restaurant space nestled at the bottom of the Gramercy Park Hotel is a matter of critical importance.

Feeding the shiny masses of attractive Europeans, media execs and oil baron guests is necessary for the greater good, as no one wants to see our media execs or oil barons malnourished.

And with that, we welcome Danny Meyer's newborn Maialino into the world, set to open this Wednesday for anyone looking to increase the amount of Italian meats, cheese and suckling pig in their diet.

Putting a faithfully rendered Roman trattoria in the same building as the Rose Bar seems strategically designed for one purpose and one purpose only: a little mid-night salumi refueling. Which should dispel any notion that you might be walking into a more buttoned-up haute-dining experience that matches the brooding, dark hues of the rest of the hotel.

Instead, you'll find burnt blond tiling (inspired by the Pantheon), reclaimed-wood paneling (inspired, we assume, by older wood panels) and the constant hum of a deli-style meat slicer in the front room, as it carves up the dozen items on the salumi menu.

And if you've sauntered over from Rose Bar fully famished, you'll want to cozy up in the carpeted back dining room for a second course full of secondary cuts. We're talking oxtail, lamb's neck, pig's jowl or a whole, roasted suckling pig for two.

Or one unrepentant pork fanatic.