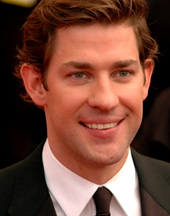 You know Brighton-born
John Krasinski
as the affable, Dwight Schrute-tormenting Jim from
The Office
. Krasinski now adds writer-director to his rapidly expanding acting résumé, and he returns to Boston this weekend to screen his film
Brief Interviews With Hideous Men
for you at the Kendall Square theater. We caught up with him to talk about the new film, interning for Conan O'Brien and the gold standard of Boston pizza.
UD: Let's get right down to it:
LA versus Boston.
JK: LA is a totally different planet than Boston, and I had a real tough time when I first moved here. But it's definitely grown on me. It's a very malleable city, with Boston bars for watching the Red Sox games and
lots
of Bostonians out here, so it's almost like a home away from home. You can make it your own.
UD: Where's your Boston haunt when you're back in town?
JK: One of the first stops has to be Bill's Pizzeria in Newton Center. It's the pizza I grew up on, and the pizza by which I judge all others.
UD: What's the best meal you've ever had here?
JK: My family has a tradition of going to Anthony's Pier 4 on Christmas Eve. The history in there is wild, and the fact that all the family is there and we're eating clam chowder right on the ocean makes it even better.
UD: Any favorite neighborhoods?
JK: I've always gone to Castle Island to get a hot dog at Sullivan's, and now I take my nieces and nephews there. But just to take the T in and go to the North End has always been fun, with all the fantastic little restaurants in there. The smaller the better, I think.
UD: You were an intern for Conan O'Brien, another favorite son of Boston. Was there any kind of special bond there?
JK: I don't know if he felt it, but I certainly felt a bond [laughs]. He was probably one of the nicest guys, and has proved to be since then. When I was his intern, I'd get to be the last person to hear his monologue jokes just before he would go on. It was maybe one of the coolest experiences I'll ever have.
UD: You went to high school with Newton's B.J. Novak ("Ryan" on The Office). What's that been like?
JK: I literally hadn't seen him since graduating high school, and when I went to test for the show we were auditioning on the same day. I realized he wasn't auditioning for Jim, so it was suddenly a lot nicer to see him [laughs]. It's been very bizarre—the kind of coincidence where if you think about it too much your brain will explode. But to be a part of it with someone that I was on a Little League team with has been really fun.
UD: Speaking of Jim, where would Jim take Pam out on a date in Boston?
JK: He'd probably try to show her a real Boston "scene," like Sonsie, or Match. One of those trying-to-be-hip places [laughs]. He'd be way out of his element, but he'd be trying to show Pam a good time.
UD: Are you tired of being one half of "Jim and Pam"?
JK: No. To be a part of something that's so well-written and so special is really unbelievable. We're in our sixth season and everyone is still totally thrilled to be there. It's almost like doing a play every day with the same cast.
UD: How did your whole connection with Brief Interviews With Hideous Men start?
JK: Without getting too overly sentimental about it, it is
the
reason I decided to be an actor. I was acting in college at Brown just for fun, and was totally blown away by a stage reading I did from the book. I wanted to somehow relive that moment, and so I decided to do it as a movie. I think [the book's author] David Foster Wallace is probably one of the greatest writers we've ever had, and hopefully more people will be introduced to him now.
UD: You worked with Clooney in Leatherheads. Did he ever offer up sage advice from one "Sexiest Man Alive" issue veteran to another?
JK: I think Clooney has the sexy thing cornered. There's no way I could get close.
UD: You're engaged to Emily Blunt. Nice. How'd you pull that off?
JK: I don't know, I'm still wondering that myself even today.