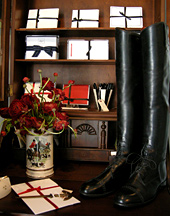 In agency contracts and health-care reform—to say nothing of your Friday night getup—the devil is in the details.
And it's rare when your plans couldn't be helped by a little old-fashioned-with-a-twist panache, maybe in the form of a reversible bow tie. Step inside
Social Primer at Alpha
, a gentlemanly new pop-up shop in West Hollywood.
Alpha's already your go-to when you need a pair of good jeans, some futuristic gadgets or a bit of highbrow smut. But they've gone ahead and carved out space for the regal K. Cooper Ray, aka the Social Primer, an Internet guru who dispenses advice on all aspects of stylish living, like what to eat at a business lunch (avoid the ribs—too messy) and whether social climbing is a bad thing. (It's not.)
He's also got a pretty good eye—browse through the shop, and you'll find plenty of classy pieces that'll bring a bit of old English flair to your daily dealings, from those debonair reversible bow ties (same striped pattern, different colors) to monogrammed playing cards, coasters, stationery and belts.
Anything's more refined with a monogram…