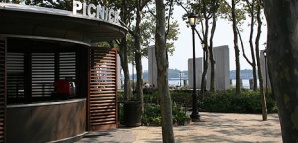 You've always seen the picnic as your sort of romantic ace in the hole. (Nothing says commitment like a bottle of wine and a grass stain.)

But sometimes you don't like going through all that outdoor-meal preparation business. The new, biodegradable solution: Picnick.

A pair of kiosks opening Monday in Battery Park, Picnick is like the Shake Shack, only much different: It's farther south, there are no cheeseburgers, and everything is earth-friendly, but in a truly incredible way, rather than a dubiously helpful one. Amid views of the Statue of Liberty, Governors Island and painted actors on stilts, you'll fill your basket with gourmet sandwiches (caprese, ham and cheese, slow-roasted heritage pork), salads (chicken Caesar) and sweets (Apple Pound Cake, Pistachio Panna Cotta)—all created by guys fresh from the kitchens of Thor and Room 4 Dessert.

Picnick also cares about Earth, so by going there, you'll show a fraction of your sensitive and caring side. Its baskets are made of natural wood, its menu boards come from compressed recycled paper, and its cutlery and cups, engineered with potato starch and soy protein, safely decompose into carbon dioxide and biomass within a couple of days.

By which time you'll be a much better person.