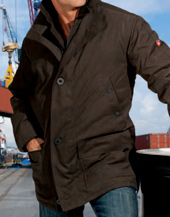 And look at that: another day of perfect sunshine.
But any minute now the fog will roll back in, the rains will start, and it'll be Sinatra's winter city once again.
And like any good native, you'll want to be ready—with what else but some midcentury German seamen's gear.
Introducing
Wellensteyn Jackets
—a line of outerwear designed in the port city of Hamburg since WWII to outfit dockhands against the foggy and blustery rigors of the North Sea and that can take on anything the Bay has to bring—available at Rolo on Market.
Though you're handy with an anchor, we're not expecting you to work the docks anytime soon. So while the Teflon-coated
Berlin
jacket is built to take a beating, your double-layered HDDAirTec version with welded seams is also suited for less rigorous activities, like downing Hog Island's $1 oysters at waterfront happy hour, or steins at Epic Roasthouse a few docks down.
And when you head to the Ferry Building on a Saturday morning, we'd suggest bundling up in the fleece-lined, two-ply (somewhat ironically named)
San Diego
. It's a hoodie and peacoat in one that's as comfortable as a big sweatshirt, but will look equally good wrapping pallets and manning forklifts as it will at brunch.
Call it instant German dockhand cred—which is harder to come by these days than you might think.