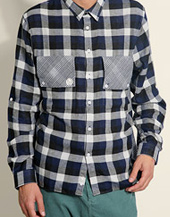 Life is strange. Lately at every turn, it feels like you're
tumbling down the rabbit hole
.
Which means: you need something to wear for the occasion. Introducing a new hallucinogenic-spectacle-as-clothing-line inspired by Lewis Carroll himself—
Uniforms for the Dedicated
, now available stateside for the first time.
Conceived by a merry band of Swedish-based artists, musicians, illustrators and the occasional actual clothier, the clothes aren't actually what you'd wear to a nightclub. They're more for those nights in an abandoned warehouse, when you and your fellow artistes are breaking out the absinthe, about to get cracking on Hollywood's next great stage show. (So you can turn it into a movie—
Paul Walker would be phenomenal as the singing orthopedist.)
Or maybe you just need a chunky cardigan, or some colorful (but not too colorful) corduroys, to get you through the fall—we think one or two well-chosen items will work for your (spiked) hot-chocolate dates and (spiked) holiday dinners this season.
All it takes to get to Sweden is a trip to Little Tokyo—the new shop called No. A is the only store in the country to carry the line.
We would expect nothing less from a shop called No. A.