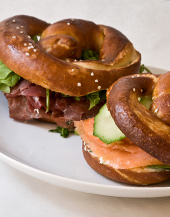 We know what you're thinking right now: pretzels.
And not those packages of salty sticks or the Auntie Anne's at Penn Station. You're thinking about the kind of pretzels made by busty, giggly Germans as they knead dough and splash each other with steins of beer.
And while we can't give you that right this second, we can give you this:
Sigmund Pretzel Shop
, a new storefront in the East Village that may have perfected the art of baking fresh, fat, German-speaking pretzels in New York, opening today.
Like most of life's pleasures, beer is involved: the Sigmund's pretzel laboratory was smart enough to borrow a secret ingredient from beer to help plump up the dough balls. That by itself—genius. But they'll also be introducing new flavors weekly, starting today with jalapeño-cheddar and caramel-pecan.
Or, you can take things to the next level with something called the loaded pretzel—lumping cured bresaola and arugula or lox and dill cream cheese onto the pretzel.
And for those times when food smaller than the size of your head just won't do (more often than you think), Sigmund is taking special orders on mammoth pretzels about the size of a Frisbee. Also coming soon: a full menu of pretzel and beer pairings—just as soon as the city recognizes the need for a closet-size Bavarian beer hall.
But make sure you get your pretzels early, because they bake a single batch each morning.
So when that's gone, no pretzel for you.