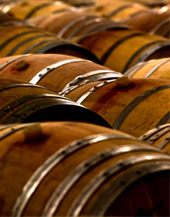 We've all been there. Sometimes a bottle of wine just isn't enough.
Sometimes you need the whole barrel.
Here to help:
DeLoach Vineyards' Barrel-to-Barrel Wine Service
, your new source for endless pinot noir ready to ship barrels straight from Sonoma to your doorstep today.
Instead of the usual routine of running out to the store nightly, you'll have your own personal stash an arm's length away. All you have to do is order one of their custom oak barrels, set it up anywhere (we suggest your living room for easy access), hook up the 10-liter bag of wine and pour.
Aside from the sheer volume of it all—each bag adds up to 13 bottles and breaks down to a grand total of 70 glasses (depending on how generously you pour)—you'll also notice that the wine tastes brighter and stays fresher longer. That's because the vacuum seal buys you about six weeks' time from the initial tap (not that we suspect you'll need that long).
For now, the wine is your choice of DeLoach's '08 California Pinot Noir or the highly anticipated '08 Russian River that hasn't officially been released yet (black market wine from a mini keg—you've come so far).
And since the barrel is yours to keep, you'll only need to buy refills. Which means that after the holidays and a few late nights, your investment will amortize in no time.
Think of it as wine barrel futures.