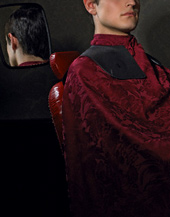 You need a haircut.
Or you will. Soon.
And we've got just the place, assuming you don't mind a bad pun or two…
Introducing
Upper Kutz
, your new neighborhood barbershop in Midtown, now open and ready to get you cleaned up for free (more on that later).
Located on a stretch of shops just south of the Design District, UK is the kind of wood-paneled styling den that eschews metro pampering frills like manicures, shoulder massages and rock-star theatrics for old-school basics—the art of the cut, a good shave, some sports on TV.
Prices are low enough to make it part of your regular grooming rotation: $18 for a cut, $30 for a hot shave. And each of the comfy leather styling chairs comes with its own flat-screen, usually tuned to sports but available for whatever you're in the mood to watch (even
Grey's Anatomy
won't raise any eyebrows here).
And now until the end of the month, the place is offering a complimentary cut to first-time clients who mention UD. This is definitely a deal to run to, although don't run inside the barbershop.
There are scissors in there.