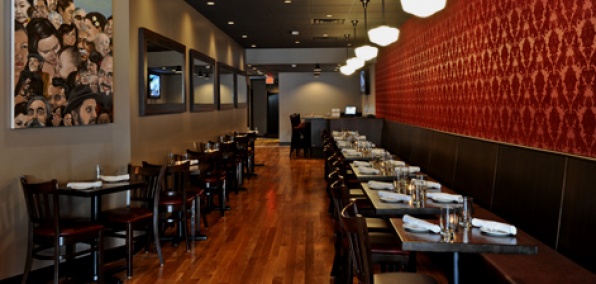 Up until now, your options for boozing on Coolidge Corner were limited to a lone sports pub and the back of the Corner Theatre, assuming you were skilled with a brown bag.
But all that is about to change tomorrow night, when a new watering hole and comfort-food den comes and knocks on your door…introducing
The
Regal Beagle
.
Named after the tavern in the immortal '70s sitcom
Three's Company
, this breed of Beagle is a cozy bistro featuring banquette table seating and red velvety wallpaper stretching the length of the space, making it more inviting than a pre-ThighMaster Suzanne Somers for
Crab Rangoon Empanadas
,
Bacon Wrapped Dates With Gorgonzola
and a
Mac 'n' Cheese
served under a buttery protective crust of Ritz crackers. (Check out the rest of the menu
here
.)
But in its soul it's a drinking palace—the perfect spot for a couple of after-work beers (like the
Barney Flats Oatmeal Stout
) before braving the T, or to burn an entire night via bottled brews and an impressive little list of specialty cocktails. In early tastings, our favorite was
The Old Landlord
, a wily blend made with Old Overholt Whiskey, Angostura bitters and muddled fruit.
Feel free to call it the Mr. Roper.