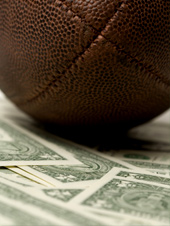 Like any connoisseur of the gambling arts, you appreciate the classical charm of the sportsbook.
Still, it has two critical flaws: first, while you're praying for a Ray Lewis pick six to help cover the spread, you might be missing one of the best craps runs of the night just around the corner. Second, watching your team go down in flames on that big, beautiful screen has a tendency to cause lasting trauma.
In the interest of time, we'll just focus on the first one.
Introducing
In-Running
, a pocket-size sportsbook from the pioneers at the Venetian and the Palazzo, available now.
If you've ever secretly wished your BlackBerry had a bookie feature, this is your device. Just swing by and pick up the gadget at the sportsbook in lieu of a betting ticket, and you'll have a steady stream of wagers beamed directly into your pocket for as long as the game's on and you're on the betting floor. And if you decide to double-fist it with a little blackjack…we're pretty sure that counts as hedging your bets.
The device only follows a few select games each day, so you'll have to stick to big-ticket matchups like this weekend's Giants/Eagles throwdown. But with a prop bet popping on-screen at every first down and with "field goal vs. touchdown" bets for each drive, we doubt you'll find yourself short of wagers. They might even add online poker and blackjack, if the gaming board obliges.
We give it 3:4.