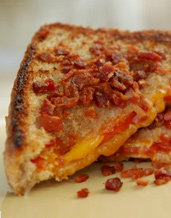 You want to resist. You
should
resist. But…you can't even pretend to resist.
Yes, there's another food truck taking to our streets. Insert your weary sigh here. And then start salivating freely because this one is
The Grilled Cheese Truck
—melting in your mouth as of tonight.
You probably don't need us to inform you that you can track down its whereabouts on
Twitter
, but we're here to tell you that you might get a little maniacal about this one, constantly checking in at hours when no self-respecting food truck would actually be serving.
Because in the dark of night, you're going to find yourself craving—with the fiery passion of a thousand scorching suns (or at least a very hungry stomach)—
The Cheesy Mac and Rib Melt
, an astounding culinary trifecta of barbecued pork, caramelized onions and mac and cheese. Or the
Triple Cream
Brie With Apples and Prosciutto Crust
. (Double cream just wasn't cutting it.) And, for dessert, the sweet-grilled
Dessert Melt
, stuffed with Nutella, a rum-vanilla-banana spread, and some peanut butter and marshmallow—ingredients that, throughout history, have never made a single sandwich worse.
Sort of like cheese.