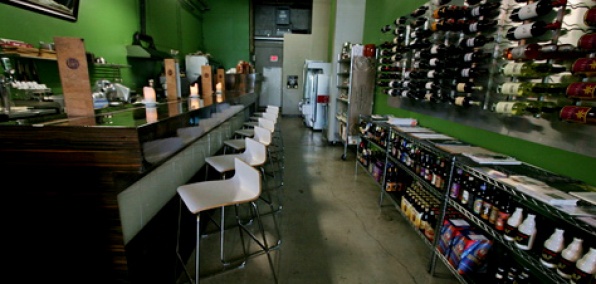 Some of the world's finest places are actually within other places.

New York's Per Se restaurant sits inside the Time Warner Center. Let's not forget about the esteemed Dewar's 12 Clubhouse inside AmericanAirlines Arena.

Now, to this august list, we bring you the next great place within a place. Introducing the Bin No. 18 Back Room, the city's first beer bar within a wine bar, now open downtown.

Essentially, it's what you've always dreamed of: the ability to bar hop without closing out your tab. You should feel free to start your night in the warm embrace of Bin No. 18's wine-barrel-tabled bistro, tippling your bordeaux and pinots and what have you. But now, when sudsier pastures call, you and your uncompromising party will simply proceed deeper into the bowels of the Bin, peeling back the layers until you reach what's to become your cozy beer nook (it almost feels like a friend's loft), with room for 10, a flat-screen with Spanish and English soccer on permanent rotation, and rare drafts like the Colorado-brewed Gordon by Oskar Blues, plus more than 40 beers by the bottle (if you still want a wine-caliber kick, you'll like the 13 percent Belzebuth blonde ale).

Of course, a new breed of alcohol demands a new breed of food, so the kitchen (viewable from your new beer oasis) will now be dishing up Latin-inspired eats like Bacalau Sliders made with salted cod, and the Tostada de Solomillo Melt, a Cuban-esque sandwich with slow-roasted pork, caramelized onions and melted triple cream cheese.

Surely setting the stage for a sandwich shop within the beer bar.