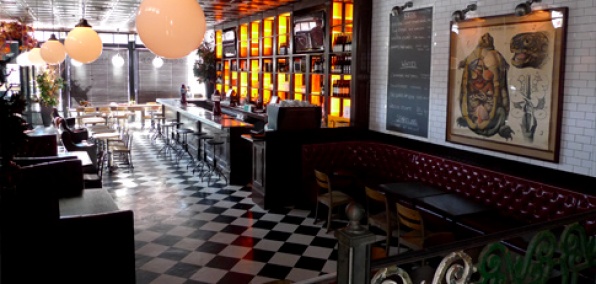 New rule: if it ain't broke, fix it.

Case study: Bar Martignetti.

The strategically located Soho watering hole was a thriving epicenter of downtown martini swilling prep-dom. And then almost overnight, it was ripped from the bosom of the downtown scene. But today we bring news that all that magic is back in the form of a dimly lit, handsome gastropub (that will no doubt continue on as an epicenter of downtown martini-swilling prep-dom).

Welcome to the brand-new Brinkley's, just opened in the old Bar Martignetti space last night for your next stout-drinking and sausage-eating excursion.

Make no mistake: Brinkley's will retain some of that harmlessly rowdy Upper East Side-expat vibe. But all of a sudden you'll find a few more Soho locals hanging around, a few more local beers on tap and…a menacing little treat that involves frying up a candy bar (more on that later).

It's the kind of warming spot—anchored by a glowing orange back bar, black-and-white floor tiles, church pew seating and old-time-y illustrations on the wall—that you'll drop by early on a cool fall night and, drink by drink, find yourself making excuses to linger.

To help with all that lingering—sausages, pheasant and other savory British pub grub (Bubble and Squeek, Bangers and Mash) that may or may not sound like kooky cartoon characters.

And, lest you go in unprepared, watch out for the Battered Mars Bar: a deep-fried candy bar seemingly ripped from the austere pages of Thisiswhyyourefat.com.

If it ain't broke, fry it.