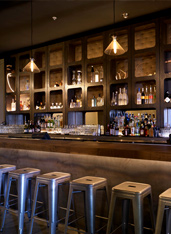 You've never been one to wait for the weekend.
Tuesday mornings look like Friday nights and Wednesdays have been known to go down easy like Sunday morning.
So consider stopping by SOM., soft-opening tomorrow on 16th Street, a new club and cocktail den that will be limited by no such thing as calendar days, seeing the light as late as 4am on weekends (and 2am during the week).
At first, it feels like you're walking into an art gallery, with paintings hanging on the walls and woven through wooden cubbies in the back bar. But fear not—within those cubbies, you'll spot rows of carefully curated liquor bottles, and turntables lurk in the back corner.
So you'll want to drop by post work, grab a stool at the walnut-topped bar, and when you need some fresh air, take your drink to the caged patio outside (yes, that's caged patio). As things get going and the DJ starts spinning (an every night occurrence), make your way over to the leather banquettes where you can play out the rest of the evening with your fellow revelers and some hip-hop, house, jazz and Brazilian mixes.
As for where to end your evening, we suggest right by the massive glass wall housing 1200 empty wine bottles stacked 10 feet high—the glass is the same that SFO uses to keep the roar of jet engines to a dull whisper.
Which means it can be any night of the week you want it to be.