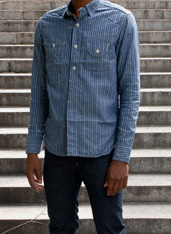 It's that time of year… 
The time when you start mentally converting every drop of rain in the city to snow in Tahoe.
But there'll come a moment—after you've carved and shredded your way through a day's worth of powder—when you need to get off the slopes, sidle up to a fire, pour yourself a hard-earned whiskey and slip into your hot-tub attire. And then out of your hot-tub attire and into something nearly as comfortable…
Introducing
Sunny Sports
, a new line of vintage American gear out of Japan, now available for your Tahoe après-ski outfitting at AB Fits in North Beach and MAC in Hayes Valley.
While the name Sunny Sports might conjure an image of a surfer knockoff of OP from the '80s, the clothes are less about the balmy surf and more suited for higher elevations. Think: rustic mountain lodges. Yet the subtle details (like an old-school pen pocket embedded in a pocket for your iPhone or BlackBerry) mean that you'll blend in nicely at Tartine Bakery on a Sunday morning.
In fact, the plaid work shirt may be the perfect piece of streamlined outdoorsy gear to get you through the next couple weekends of football and pumpkin carving. And then, when it looks like the temperature is about to dip and you're finally heading to Tahoe, you'll want to bring along the four-pocket wool Melton jacket—just the shirt for tossing a few logs into the fire.
Or a few inferior garments.