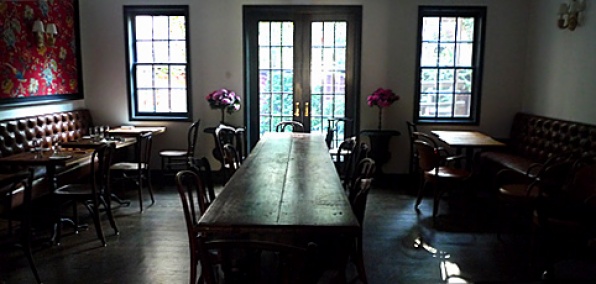 Think back five months.
It was May. The Derby was on. Mint juleps seemed to appear like magical cups of happiness out of thin air. Times were good.
And they can be good again.
Here to help cast off the shackles of May-only julep consumption is
Tipsy Parson
, a new Southern-living room dedicated to year-round seasonal fruit juleps, comfort food and the art of the biscuit, opening Monday in Chelsea.
If you've been craving a dollop of Southern gentility, but not a full-on up-close-and-in-person dose of the South, you'll want to drop by the two-room Parson with that Southern belle you met at the
Billy Reid
store and a raging thirst for bourbon. The front bar room feels like the bright, homey kitchen of an old Southern mansion, filled with a church pew for a banquette, lots of colorful knickknacks and plenty of secrets—like the julep slushie machine hidden behind the bar. Why, yes, we did say julep slushie machine.
The back room is a bit darker, better for a long evening repast, and decked with antiques, tufted leather chairs and a communal table made out of an old cotton press.
There's even a little garden out back if you want to bring a cigar and contemplate life above the Mason-Dixon Line.
The North wins again.