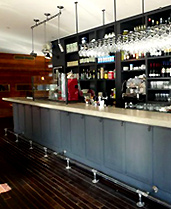 Dating Rule #481: Unholy buzz, a famous chef or a Pat LaFrieda burger does not a date spot make.
But it is a well-known unpublished rule that a brand-new tiny Italian spot with a great pedigree that feels like it's been cranking out
homemade pastas
for years is what we like to call "golden."
And this is why we're bringing
Corsino
to the forefront of your day, a rustic Italian eatery, and the latest spot to quietly carry on the Italian powerhouse 'ino name, just opened in the West Village.
Now, like any good romantic Italian place, Corsino has a magically warm room, decked out in dark woods, slate-blue walls, dimly lit candles and some touches of red (aprons on the waiters, numbers painted on tables). But the critical detail here is an abnormally elaborate crostini menu, which satisfies Dating Rule #487: Always stick to small, shareable portions of food that look adorable.
So you can sit back with a bottle of Barolo (or two) and feed her the
Ricotta and Orange Honey Crostini
or the likely-to-be-extremely-effective-on-a-fourth-date
Radicchio and Goat Cheese Crostini
, while whispering sweet Italian nothings in her ear.
Or, you could speak English at a normal volume and just drink more Barolo.