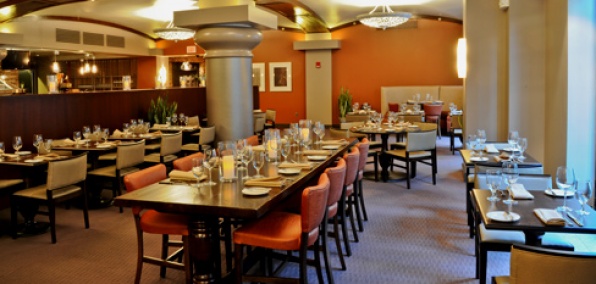 Sometimes grabbing dinner on the town calls for high-end dining set against a dark, brooding backdrop closer to something you may find in Sin City, rather than Suffolk County. Other times, you crave the light.
So when the news dropped that a famed local steakhouse had undergone a quiet (yet cheery) face-lift, we knew you'd want details, and want them first.
Introducing
Pairings
, opening Monday in the former space occupied by Todd English's Bonfire steakhouse at the Park Plaza hotel in the Back Bay.
With Bonfire extinguished, you won't have the encroaching feeling you stepped into the flames of eternity. The hellfire theme has been scrapped for bright harvest colors and metallic copper tones to the walls and booths, while incorporating dark-wood communal tables perfectly suited for passing around their
Hickory Smoked Gnocchi
,
Muscovy Duck
or even a few platters of
Lobster Corn Dogs
between you and your friends.
And should you need another reason to look forward to the other side of winter here, an outdoor patio stretching the length of the dining room is now at your disposal, accessed through new collapsible bay windows facing the street like epic purveyors of natural light, instead of the restrictive levees previously in place.
Future's looking bright…