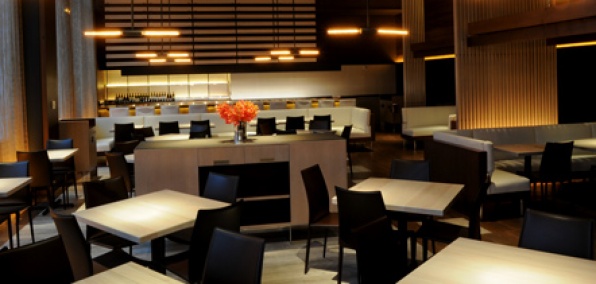 As you read this, lists are being made.

Menus are being conceived, and sous chefs are doing a little light stretching while preparing for hurricane Jean-Georges Vongerichten, the culinary titan about to make windfall in our fair city. And as we brace for the excitement to come next week, we thought you could use an early primer—by way of an exclusive sneak peek at the new digs…

Behold Market by Jean-Georges, opening next Thursday at the brand-new W Hotel in the Theatre District.

You heard it here first: this will be your new dinner and drinks option before a show at the Wilbur, or a boozy night along Tremont Street (and if said night requires it, the check-in counter is right around the corner from the restaurant). It's got a sleek and modern vibe, with floor-to-ceiling windows looking out on Tremont, a slick bar and cream-colored leather booths just deep enough for slinking into after a freshly devoured feast.

Speaking of the (still being finalized) feast, prepare for a greatest hits list from JGV's NYC scenes/eateries like Spice Market and Mercer Kitchen, with French, American and Asian flavors making their way from the market to your mouth using 100 percent local ingredients, like Soy Glazed Short Ribs and Slow Cooked Arctic Char.

We're assuming the foie gras won't hail from the Charles or Frog Pond, though.