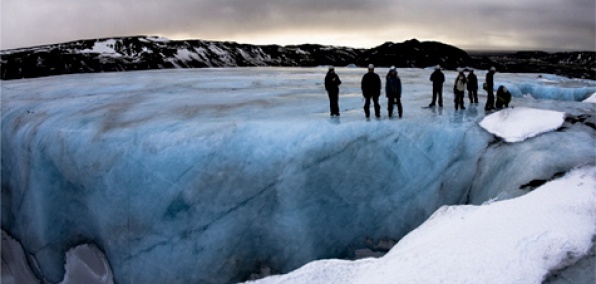 You've been waiting for this.

Counting the days. Building up your strength. Sharpening your pickax.

That's right: ice-climbing season is upon us.

Which means it's time for the Blue Ice Tour up Iceland's Sólheimajökull Glacier, an endurance-testing trek through two-and-a-half square miles of icy wilderness, making voyages now.

Prepare yourself for an intoxicating mix of frigidly beautiful scenery and grunt-inducing physical challenges (like being a roadie for the Pussycat Dolls). You'll explore melted tunnels, gaping sinkholes and a spectacular 200-foot waterfall, but in between the postcard moments you'll be shimmying through snowy crevasses and scaling 20-foot sheets of ice. The landscape here changes from week to week thanks to the volcano underneath, so even the guides don't know exactly what kind of terrain you'll run into—although you can be pretty sure it'll involve snow.

Once you've got a little more experience, you'll be ready to head farther north to the Tröllaskagi area, where you can hike up an untouched mountain and take the return trip on skis, blissfully carving virginal powder all the way down. Or if you're looking to give your legs a rest, you can snag a local snowmobile and take a speedier approach to the glacial wilderness.

Who knows—you might just spot Björk in the wild.