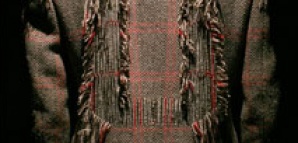 You're good at being mysterious.

But you've got nothing on Martin Margiela, the Belgian man behind the eponymous clothing boutique for men and women opening tomorrow in Beverly Hills—his first store in the Los Angeles area. Margiela, who spent years working for Jean-Paul Gaultier (that means he's important), doesn't like to be photographed, rarely grants interviews and is extremely strict about which employees are authorized to speak on behalf of his label (translation: almost nobody).

But if you're thinking of upgrading your look or doing something a bit more creative with your wardrobe (read: out there), his eccentricities might be worth your time.

You could easily drive past the simple (and so far signless) Maison Martin Margiela storefront without looking twice, especially since workers are still racing to complete the job today. But if you're familiar with Margiela's designs, which often highlight details of construction—prominent stitches, visible tailor's markings—you know that a few exposed nails might actually be apropos.

Inside, amid furniture salvaged from shops and houses around Europe (the company is based, of course, in Paris), you'll find one-of-a-kind clothes from Margiela's limited "Artisanal Collection," for which existing clothes and other items are taken apart, combined or reworked by hand—giving new meaning to the word "recycling." In addition to slim-cut pieces with built-in neckties, you'll also find shoes, accessories and, we're sure, plenty of other surprising objects.

In other words, you never know what you'll find.