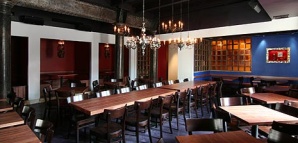 With all due respect to the fine pizzerias of New York, nothing satisfies your late-night appetite like a little Mexican (assuming your craving has to do with food, of course).

For authentic tortas at 2 in the morning—or afternoon—we present your new late-night food destination in the cobblestone crapshoot that is the MPD: Los Dados, opening Monday and just now taking reservations.

A production from Midas-touched nightlife maestro David Rabin, Los Dados is your definitive home-cooked Mexican feast sans the road trip to Juarez. Chef Sue Torres (Sueños) offers dishes you'd find in a neighborhood grill south of Texas, with a few rarities not to be found anywhere else in the city: red chile de arbol tortillas (stone-ground and handmade in-house) provide the taco backbone for coconut-infused halibut, and other strong options include the scallops ceviche and the beef picadillo mini tacos. (Mini tacos are the new sliders—you heard it here first.)

From your seat in one of the dark wood booths—complete with tongue-in-cheek Mexican shrine and paper placemat with local ads—you'll want to cleanse the palate with a Pinche Bueno (a blackberry margarita with a shot of mezcal floating in a lime) or a refreshing Lagerita (Cazadores tequila and Dos Equis).

And coming in two weeks: a subway-tiled takeout/delivery taqueria, possibly open as late as 4 a.m., serving stomach-filling street food like tortas (Mexican sandwiches), chalupas, fish tacos and churros. You'll also have access to Aguas Frescas: water infused with fruits like watermelon and pineapple.

Which, by that point, we're thinking you might really need.