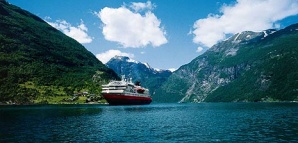 You could sail around the world in 80 days.

Or you could sail down it in 67.

Norwegian Coastal Voyage's The Arctic to Antarctica launches from Reykjavik next month as the first cruise to tackle the globe—from top to bottom. Timed to follow the friendly climes, it lets you catch the last daylight in a still-thawed Iceland, then slowly work your way south (it's like a long, lusty date with Mother Earth). You're in New England as the leaves turn, basking in the Panama sun by late October, and down to South America by the time spring hits in November. For the sake of symmetry (and because no world cruise is complete without a penguin sighting), you'll buzz Antarctica before looping back to Patagonia—having seen 44 ports of call, four continents, three oceans and both poles. Not bad for 67 days.

The 2007-built, eight-decked MS Fram carries life's necessities (gym, sauna, well-stocked bars) down the world with you, while an in-room Jacuzzi, entertainment system and private balcony mean you never have to leave your Grand Suite. But the real perks come onshore—where you'll explore Icelandic glaciers and volcanoes, swim with dolphins in Honduras, go pisco-tasting in Peru and flashlight-tube through Belize's rainforest caves. If you can't quite spare two months, shorter legs are available, so you can hop off in Chile and fly back to your regularly scheduled life.

But you're not one to leave a job unfinished.