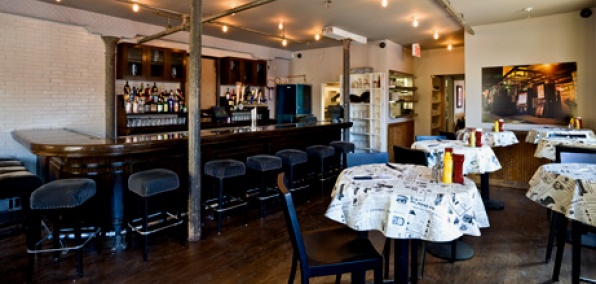 Ladies and gentleman, this is the Hog Pit.

No, seriously, it is. 

Or at least it was.

All that Jack Daniel's and the faint waft of old beer has been scrubbed clean and given a brand-new burger-loving lease on life. Which means the next time 3am rolls around, you'll have a brand-new guiding light...

Welcome to Bill's Bar & Burger, a diner-style comfort-food den dropped into one of the most strategically positioned spaces in the MPD, opening Friday night.

The spot's still offering a raw brick chaser to the MPD glitz, but that's where the similarities end. Bill's is serving up burgers and shakes instead of shots (unless, you know, you want shots), and you'll be able to make your way through it without a bodyguard. So when you stumble in for that 4am last call, you'll find two rooms of diner-style black vinyl seats, pressed-tin ceilings and a scene almost as bustling as the one you just left.

The main event is the five-and-a-half ounce burger: a seared chunk of LaFrieda beef pressed into a perfectly smooth, quarter-inch patty that, together with a butter-toasted bun, should give you the perfect rush of last-call greasiness. Of course, there are a few worthy side attractions too, like the spikable Creamsicle milk shake, Disco Fries (smothered in gravy and cheese) and the table in the far right corner with a panoramic view of the crowds stumbling out of the Gansevoort.

One too many milk shakes, we're guessing.