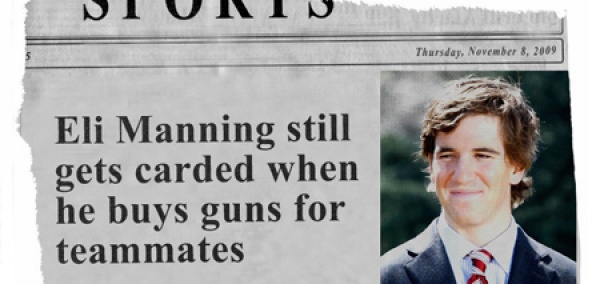 It's Wednesday. The first half of the week is over, and you're anxious for the other half to be done, so in the end you wind up spending much of today finding ways to procrastinate.
And as we mentioned
yesterday
, we know this week has been a bit hard on you, not to mention what last weekend did to diminish your trash-talking privileges to non-New England fans around the office.
Time to let someone else do it for you.
Presenting Boston-based
Tauntr.com
, a new trash-talking depot targeting all major teams in the NFL, MLB and NCAA football, giving you a new way to fill your sports/comedy website checklist in one fell swoop, while emails and phone calls go ignored.
It's designed specifically so that the insults and taunts can be conveniently sent to "friends," so think of Tauntr.com as your new buddy who's really good at creating
Photoshop
snark, Onion-esque
fake newspaper headlines
and
interactive pages
reducing fans of your sworn enemies (read: every team in New York) to comical stereotypes (the audio skits can get profane, so use headphones). The sniping is done single-shot style or encompassing entire teams, with coaches, players and their fans equally addressed for your enjoyment. In short: all are lampooned, and no one is safe.
Let the copy and pasting to rivals begin.