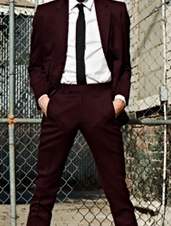 It's happened.
Finally, a famous person has designed some clothes.
Wait—come back. The celeb is in a band, not a reality show, and the clothes—they're dapper. Really dapper.
Introducing
Albert Hammond Jr. for Confederacy
, the limited-edition new line of suits that'll work in boardrooms,
green rooms…all your usual rooms
.
Sure, you remember the Strokes (Hammond was on guitar), and they always looked pretty good onstage. And people who care about these things have been eagerly anticipating this moment since all the way back
when Confederacy first opened
. Typical rock star—always making people wait.
But we think you'll agree it's been worth it.
The Brown

Houndstooth
two-button works for your London overnighter, and
the classic black
works for…everything, of course. But if you need to really make an impression before you even say a word at your next meeting, we suggest the
Burgundy Suit
(pictured), which looks black until it doesn't, or the
Hunter Green Suit
.
Should keep you happy until Marc Jacobs starts a band.