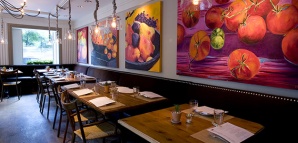 As football season lustfully approaches, it's hard not to see everything in terms of that sport of swine.

You'll forgive us then, if the menu of the new upscale farmer's-table spot opening for dinner tomorrow inside the Ritz, BLT Market, seems to take the shape of a greenmarket roster/playbook.

Created by Laurent Tourondel, the man responsible for placing the initials "BLT" behind almost every protein in the city, the menu at BLT Market—which will completely change every month—is split into two sections. One side lists the ripest local ingredients of the season (the roster of freshness, if you will); the other, the dishes featuring those ingredients (the scripted playbook). Here, though, is where the pigskin analogy ends, and the place's country-feeling date spot vibe takes over. She'll love that she can pair fleeting flavors like artichoke, yellow wax beans and summer truffles with arugula and dandelions to make a salad, and take further delight in late-summer standouts Tristar strawberries served with a Sable Petit Beaurre and Lemon Verbena Sorbet.

You, meanwhile, will indulge in the Veal & Pork Ricotta Meat Balls and impress her with your genteel, agrarian side as you remark on the paintings of red, yellow and purple vegetables ("How vivid") and the array of best-years-behind-it farm equipment ("How iron").

Preseason never seemed so cultivated.