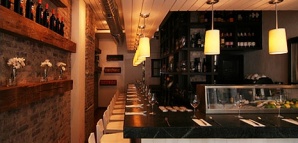 In the long history of New York specialty restaurants, some concepts have been run into the ground (Kobe beef, frozen yogurt). But other proud dishes have been waiting, patiently, for their moment in the spotlight.

Finally taking center stage: Crave Ceviche Bar.

Opened yesterday as the first restaurant in Manhattan devoted entirely to ceviche, Crave's acid-riddled takes on traditional dishes will make you overlook your trip to Midtown East. Virtually everything on chef Todd Mitgang's menu, from the Filet Mignon Sliders to the Maine Lobster Roll, is prepared ceviche-style—cured with acid, rather than cooked outright (he's even coined his own term—ceviche'd—to describe the process). Standout twists on this time-honored method include Black and Blue Veal (cured rare and plated with a rich olive tapanade) and the Yellowfin Tuna BLT (even the pancetta is salt-cured). Or impress your date with the champagne-ceviche'd Arctic Char with strawberries, truffles and caviar.

The white-paneled, Cape Cod-style main room has three window tables, but the real action is at the bar, which has 19 wines by the glass, an oyster-stocked raw bar and a front-row view of the stunning raw meat parade (we're talking the ceviche, here). Red and white house-made sangrias flow freely, and even the beer jumps on the salt-and-acid bandwagon—served mordida-style, with Tabasco, salt and lime juice.

Now for some acid-cured Pinkberry.