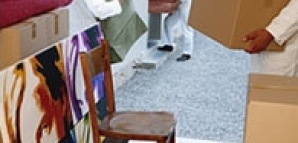 You've secured the perfect condo. (We heard about the marble tile in the foyer—impressive.) Now all you have to do is...pack up your entire life, transport it 57 blocks and unpack it again.

In the past, this would mean stress. These days, there's a turn-key service for it: FlatRate Elite.

The premium option from FlatRate Moving and Storage, FlatRate Elite is the industry's first true luxury moving service, a company dedicated to making your move a life transition you can basically sit out. Elite's neatly dressed movers will pack and unpack all your boxes, as well as connect your electronics, computer and flat screen upon arrival (we know your repulsion to cords).

Your most prized possessions are particularly safe. For your wine collection, Elite uses precise climate-controlled storage and transport. For your art and antiques, they use custom-built crates. And whether your piano is an upright, grand or baby grand, Elite knows how to avoid Laurel & Hardy-esque mishaps. They've also got people to handle cleaning, car service, locks, IT setup and any carpentry/handiwork needs.

And if problems do arise, you can always turn to your Elite Liaison, the point person for all preparation, management and logistical issues. (Think of him as your moving butler.) The Liaison can oversee the entire move in your absence, leaving you with time to focus on more important things.

Like enjoying that wine collection.