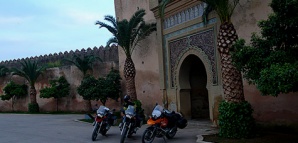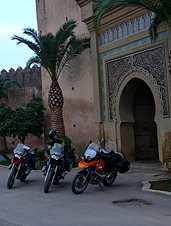 Today, we're going to share a little extra wisdom with you: It's not where you go. It's how you get around once you're there.
Which explains why your transatlantic inner-tube journey was so much trouble.
This time around, we suggest an automotive approach. Specifically, Hispania's
Moroccan Motorcycle Tour
, a 2000-mile road trip through the mountains, canyons and beaches of Spain and Morocco, taking reservations now.
It's basically
Easy Rider: North Africa
—but regrettably without the chemically assisted detours. For 15 days, you'll motor along the beaches of Costa del Sol, speed through the 200-meter-deep Todra Gorge, and wend from peak to peak in the High Atlas Mountains, all the while hopping between hotels (including a former palace in Meknes) and giving your countersteering skills a serious run for their money. If you can persuade the guide, you might even take a few off-road detours: your choice between sand dunes, rolling fields and death-defying canyon leaps.
You'll have your choice of high-powered German bikes—each with room on the back for a female acquaintance you pick up along the way—and Hispania will ferry your less precious cargo in a tour bus alongside, so you won't be weighed down by any excess baggage. More importantly, you'll have seven other bikes keeping you company, which should be small enough to keep things personal, but large enough to fend off any rival biker gangs.
We hear those Algerians play for keeps.