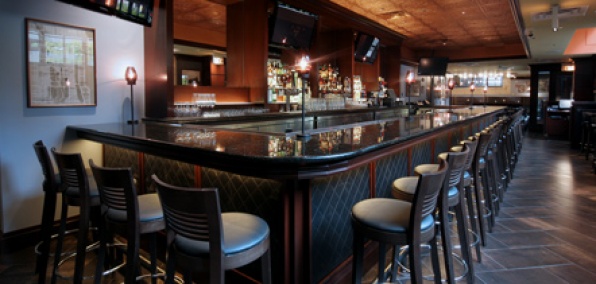 As far as this week goes: mission accomplished.

Congrats.

Now the bad news: you have to do it all over again next week. But when you do, there'll be a reward waiting for you, starting on Tuesday.

Introducing New Line Tavern, a friendly neighborhood watering hole steps from Ogilvie for your post-work, pre-commute pleasures.

This isn't one of those big trendy, glossy, sporty, sweaty, antler chandeliered, ivy-covered, crawling-with-frat dudes kind of places. (You know the type.) Think of this as a classic crisp fedora of a bar—the sort of relaxed post-work spot where you can kick back with a burger, a strong beer, and keep an eye on the Bulls when they're on. Oh, and hey, if you want a little foie on that burger, well, it's coming right up.

It's housed in an old power plant that once kept the Northwestern lines chugging along (and most recently served as the lounge for the short-lived restaurant Powerhouse). That explains all those vintage photographs of commuters, back before the CTA made commuting the pleasure it is today.

Despite the nostalgia, this isn't all rusty nails and old-fashioneds when it comes to cocktailing: both The SnoCone (raspberry vodka and lemonade) and the Orange Bourbon Press (Jim Beam, Grand Marnier, Ginger Ale, muddled orange), should you help you relax before your train leaves the station.

Just make sure you're not driving it.