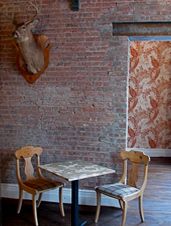 Nations of the world, we have an announcement: we're a little bored with a lot of you.
It's not like we don't like what some of you have to offer. For example, we love what you're doing with rubdowns over there in Sweden.
But right now we have eyes for one nation and one nation only: Scotland. 
And all because of one little bar…
Meet
Highlands
, your brand-new Scottish drinking nook and dining room, opening its cozy doors for private parties this weekend in the West Village.
If you're expecting haggis, old tartans and William Wallace, you're barking up the wrong kilt. Picture Highlands more as a Scottish Freemans—a mix of old and new, with a little taxidermy, tons of dark wood and shelves full of Scottish knickknackery like tiny Scotch Terriers (not real ones).
The space is split into two smallish rooms—one a vintage industrial barroom perfect for intimate evenings with your favorite rare single malt and the other a cozy library (complete with pheasant wallpaper and a fake fireplace), in existence solely to sate your Scottish soul-food needs (go for the
Beef Cheek, Mushroom and Ale Pie
).
It all feels just about perfect as the weather chills, the days get a little darker and nothing but a good, neat whiskey will do.
Actually, that has nothing to do with the weather…