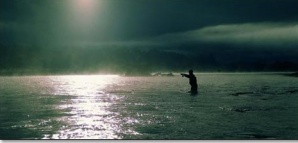 Fishing may not be high on your list of extreme sports.
But when you add a Bell 407 chopper, a Chilean military crew and a $20 million yacht, that tackle box starts to look a lot more exciting.
Luxe travel organization
Nomads of the Seas
has recently launched the
Extreme Fly Fishing
cruise, the most extravagant fishing trip in Patagonia—and the most expensive in the world. $15,000 gets you seven days aboard the five-decked
Atmosphere
, cruising
Patagonia's
wild coast. But don't get too comfortable in the onboard Jacuzzi; every morning, one of
Atmosphere's
water toys (like the 200-horsepower Rogue jetboat, 18-passenger Zodiac Hurricane or Bell chopper) will whisk you away to virgin expanses of the
Chilean
rainforest. Hundreds of miles from the nearest dirt road, you'll cast into salmon-filled rivers and glacier-top lagoons that have never seen a fishing line. Osvaldo, your expedition manager (and former chief bodyguard to Augusto Pinochet) is on hand to pinpoint choice streams, take care of your catch and cook a mean carne asada while you kick back fireside with a bottle of wine.
When you're less inclined toward angling, your eco-tour guides will take you whale watching through pods of humpbacks or drive you up into porpoise territory. The onboard masseur will help you recover from the day's trout battle, as will the extensive wine selection, open bar and sophisticated Chilean fare—which, as you might expect, is heavy on the seafood.
Because you can't have too much of a good thing.