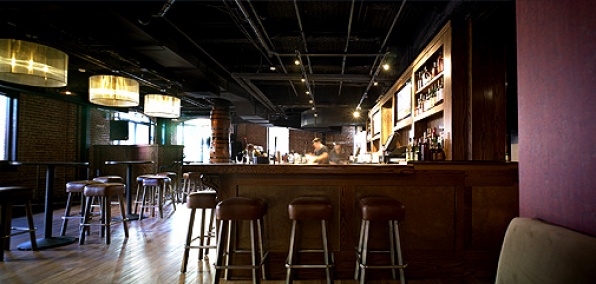 It's not very often that you find yourself in Fisherman's Wharf.

But when you do—like on the occasional In-N-Out run or Gary Danko five-courser—you need somewhere to go wash down all that food.

Preferably, with a little bourbon.

Welcome to The Parlor, a new weeknight whiskey den-slash-weekend underground nightclub, soft-open now in the historic Cannery building.

Nestled inside a 1907 brick warehouse that once housed the first Del Monte Cannery, the place feels equal parts Barbary Coast saloon and neighborhood watering hole. (You might have missed it when the space was the Dirty Martini.) The Cosmopolitan and Circa vets have taken things to a whole new level—literally, with an extra floor. You'll enter on the top one, then stop by the new 15-stool granite-topped bar for some Buffalo Trace hand-selected Eagle Rare 10-year bourbon.

If you've brought friends, reserve one of the three booths on the top floor (they're the ones with flat-screens), and have your server shuttle you signature cocktails like the Blood & Sand or a few rounds of Belgian beers like the Kwak amber ale and Belgian-style Maredsous.

But the best spot in the house—all the way in the back past the dance floor—is the Library, where you can while away a few hours playing pool or just lounging around in the big leather chairs.

Catching up on your reading.