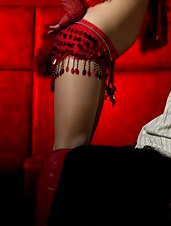 Gentlemen's clubs have a long, proud history of innovation, from the earth-shattering invention of the "Live Nude Girls!" slogan to the brave young women who gave their lives attempting the first Helicopter. Luckily, that spark of genius remains alive and well today, and it's about to change everything one more time.
We give you the first free lap dance, now being hatched at the soft-open den of iniquity (slash research lab) known as
Lollypop's
.
The spot itself is a modern update to the refined establishments you know so well, nestled in the former Mile High Club space with a catwalk-and-private-room setup that should be pleasantly familiar. But around the time you finish your second drink, you may notice a comely young dancer approaching you with a decidedly come-hither stare, and leading you to a more secluded corner for a little quality time on the house. In case you hadn't noticed, it's the future.
Of course, man does not live by private dances alone, so the folks behind the one-way glass have thrown in a few curveballs to keep your attention, like regular afterhours lingerie parties and the odd visits from burlesque troupes. If you want something even more spectacular (and, compared to a burlesque show, that's a tall order), stop by for the grand opening on Halloween: to mark the occasion, a motorcycle-riding daredevil will jump over the building, Knievel-style.
Fortunately, he'll be fully clothed.