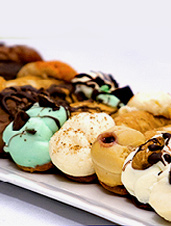 Prepare to think about the cannoli in a whole new way.
First step: thinking about cannoli at all.
Second step: adding booze.
Welcome to
Stuffed Artisan Cannolis
, a sliver of a storefront quietly focusing on the high vocation of cannoli stuffing, and only cannoli stuffing, opening Thursday on the Lower East Side.
Started by a couple of cartmongers who tested their cannoli skills in the competitive waters of Little Italy, Stuffed is the kind of single-minded bright, simple, little shop where you'll see things stuffed into a crispy little shell that you never thought would end up in a crispy little shell.
But as it so often does, it all starts with the cheese: owners Anthony and Brielle ditched their cart after spending a year tracking down the best ricotta they could find. (Naturally, it comes from a secret dairy farm in the fertile crescent of New Jersey.)
And they're putting that secret ricotta to good use with some of the most unholy, sacrilegious flavors you'll likely see anywhere: we're talking pumpkin pie, peanut butter and jelly, birthday cake, French toast, cappuccino and red licorice cannolis. Around Christmas expect eggnog and a bacon chocolate stunner.
For now, though, we'll do you one better: starting this weekend you'll be able to get a specially created White Russian cannoli just for UrbanDaddy readers.
The Dude would certainly abide…