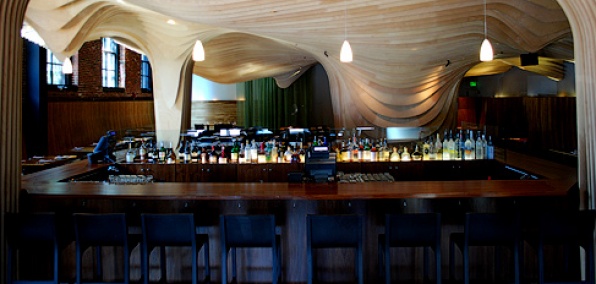 Change can be a good thing.
Craig Kilborn giving way to Jon Stewart allowed
The Daily Show
to become great. And let's not forget what happened when Drew Bledsoe was injured and a certain sixth-round draft pick stepped into his shoes…
So when we heard that South End hotspot Banq was planning an overhaul, we knew this could potentially be as huge a move as bringing in Christian Bale to reboot Batman.
Introducing
Ginger Park
, which quietly opened its doors over the weekend, replete with cosmetic changes to the bar (don't worry, the crazy wood waves are still there) and the addition of notable chef Patricia Yeo, freshly shipped up to Boston from NYC.
Asian-inspired fare
like
Tea-Smoked Duck and Mandarin Pancakes
now await you, which pairs well with the revamped sake-heavy cocktail menu (try the unfiltered
Only One Daughter
, a floral, fruity sake sure to make you wish the creator had had more children).
And just like before, it's still a slick spot for a date, dinner or several rounds at the bar, should you be zeroing in on the South End for a night of debaucherous fun.
We'd say you can take that to the Banq, but you're kind of already there.