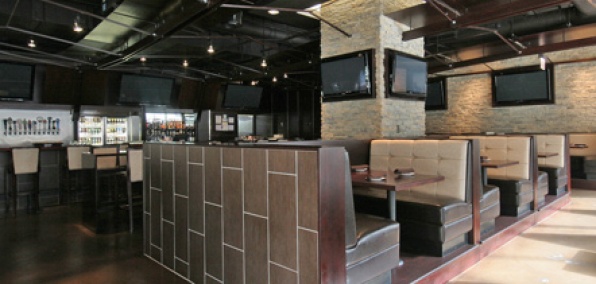 You've been getting high a lot after work.

We don't blame you.

Roof, C-View, Market, Zed451. All perfectly cool cocktailing penthouses.

But…in case you'd like to keep your feet on Michigan Avenue terra firma, we present Sweetwater Tavern and Grille, now open for your tie-loosened pleasure. Don't worry: your spirit will still reach lofty penthouse heights—places with 70 kinds of beer tend to have that effect.

From the guys behind that airplane hangar of a bar in Wicker Park known as The Boundary, this spot offers the same plethora of sports-tuned flat-screens, stacked stone walls and exposed-joist ceiling ambience. But instead of a hangar, this is more of a…let's say lounge in a private airport. We can already imagine a crew of flight attendants gathered around a communal table, snacking on bacon-wrapped Cajun shrimp, sipping cocktails like the South Water Blue (Stoli Blueberi, lemonade, Blue Curaçao and a splash of champagne) and giggling about their next layover.

While this will make a fine place for work lunch meetings, this week it's dinner only. So just sink into one of the comfy leather conversation pits in front to nosh on fish tacos, burgers topped with things like bacon and fried eggs, or lamb chops soaked in a pomegranate-cabernet sauce.

Entertainment is provided by sidewalk-to-ceiling windows looking out to the Mag Mile pedestrian traffic.

You love a good leg's-eye view.