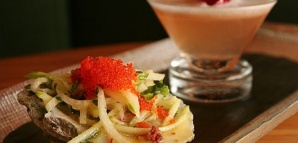 Even in a city with a virtually limitless array of dining options, some dishes are way too good to miss—they demand immediate consumption. Every month, our feature Served Up gives you the lowdown on a standout dish in the city. Dig in.
South America does two things really well: sex (think Shakira) and revolution (think Che). So in honor of this weekend's big holiday—that would be Peruvian Independence Day—we bring you both on a platter:
Rayuela's
off-the-menu appetizer
Amor Libre
, a cocktail-ceviche pairing that will do more than liberate your political sensibilities. Get excited.
According to Peruvian legend, the marinade from ceviche is a potent aphrodisiac—the tangy fish-and-lime juice reacts with the liquor pisco to form
Viagra Peruano
(no translation needed). But since you're not going to drink a fish-juice cocktail—no matter
where
it hits you—Rayuela has dressed up the stimulant with its own inspired combination of ceviche and alcohol.
To turn legend into legendary, take your date upstairs to one of the sexy curtained nooks and start the culinary foreplay with the pairing's ceviche—a single Blue Point Oyster on a half shell. You'll be hit first with the sweet tang of tobiko caviar, followed by the smoky crunch of apple and bacon. As the cured oyster proceeds gut-ward, it brings with it the magic marinade, infused with passion fruit and finished with mustard oil for a little extra spice. Take the cocktail—a
Rose Water Pisco
with quince, lime and a kick of Bacardi—more slowly. She'll love the rose petal that floats on top; you'll love the dry finish of the Barsol pisco.
From there, keep these four exit words at the ready: "
La cuenta, por favor
."