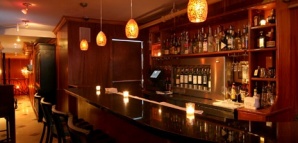 You've been known to consume a bottle or two of Barolo.

But sometimes you just want to try a glass without that extra commitment. Noble Food & Wine, soft-opening Wednesday in Nolita, takes by-the-glass wine to the next level.

The cozy, split-level spot is separated into two main areas: a small marble and mahogany wine bar up front and a dining room in the back subtly lit by four chandeliers. Stick to the front bar and bring a date who has an appetite for exploring multiple glasses of vino (a worthy qualification if we've ever heard one).

Noble sets the gold standard for by-the-glass wine with its brand new $15,000 Enomatic Enoline 8 sitting behind the bar—an argon gas preservation system that keeps wine fresh for two months after uncorking. What this means for you is the opportunity to sample some of the world's most sought-after wines (Chateau Lafite Rothschild, Richbourg) by the glass (or half glass) at the bargain price of $25 to $80 per glass. Plus, unique tastings, like verticals (same producer, different vintages) and horizontals (California cult wines) all from a 150-deep bottle list. The American-leaning food presents a variety of different flavors like Quail with Black Mission Figs and Chanterelles, Red Snapper with Saffron Manilla Clams or Fried Oysters. But just consider it as optional absorption to help you get through a few more glasses.

Which always seem half full.