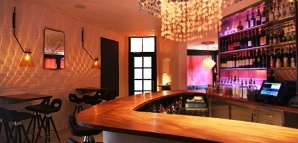 Sometimes hype can overshadow something pure.

In the case of the much-delayed, much-anticipated and soon-to-be much-talked about Centro Vinoteca (soft opening Sunday and currently taking reservations), rise above the hype, above the ground floor and take a seat at the apex of the comfortable, triangular upstairs dining room. There, surrounded by open windows and rustling trees, Chef Anne Burrell (of team Batali Iron Chef fame) will serve you her "spiritually Italian" cuisine (but don't worry, it's more olive oil than sacramental wine).

Your meal at Centro Vinoteca can be big or small, quick or languidly paced—but we recommend you take your time. Start with Piccolini (small plates meant to get to your table in two minutes, perfect for those moments when you get to dinner and promptly devour an entire loaf of bread) and a quartino of wine (carafed 1/3 bottle pours that replace wine by the glass). Then indulge in sumptuous pastas (like the Lamb Bolognese with Crispy Gnocchi and Fried Onions) before finishing strong with a hearty entrée (try the Braised Lambshank, nicely balanced with a vegetable Scafata).

Located at the center of the West Village (hence 'Centro'), Centro's two floors are really a tale of two restaurants. Situate yourself on the ground floor with its white tile floors, open kitchen and French doors to indulge in high-energy Italian bustle usually found on Roman high streets. Or head upstairs for its carpeted floors, well-spaced tables and a simple grey/black/white décor if you're looking for a more intimate dinner for two (or six).

The food may be Italian in spirit, but expect the wait for a table to be pure New York.