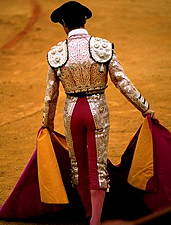 You've read about bullfights before, but seeing the standoff up close is a different game entirely: the black eyes of the snorting bull, the effortless grace of the untouched matador, the deadly crunch of the Velcro sword…
Yes, a few things have changed since you last checked in.
Welcome to
Bloodless Bullfighting
, a less-gory translation of the legendary Spanish pastime, a few days into its run on the south Strip.
That's right, the epic struggle between man and bull is coming to Vegas, and just because the blood flow is less than Tarantino-esque doesn't mean it's toothless. The bull is still very real, very horned and very unhappy. And on the other side of the cape, the toreros—legit competitors fresh from messier conquests in Spain—are still risking their unpunctured skin for your entertainment. But as you'll no doubt notice, the fight subs out swords for Velcro flag planting—kind of like playing flag football with livestock.
The first of the corridas happened earlier this week (if you're curious, the humans won), and they were officially the first bit of bullfighting Vegas has seen in more than 40 years. It's nestled into the same south Strip arena that usually plays host to Muay Thai fights and the circus, where the costumes are slightly more understated.
The sportsbook's giving the bull 30:1.