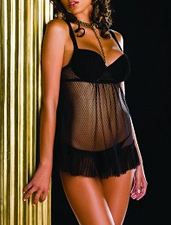 We know it wasn't on purpose, but you kind of dropped the ball on Half Valentine's Day.
You're busy, we get it. But the midpoint to the most romantic day of the year only happens…once a year.
Thankfully, there's still time to redeem yourself. Introducing
Oh La La Cheri
, a new den of all things lacy and silky, now open in downtown.
Think of La Cheri as a sexier, less pricey version of La Perla. Opened by a couple of undergarment-obsessed Frenchmen (for some reason that feels redundant), the store stocks the Parisian-made Ascension brand, pioneers of all things skimpy and corset-y (and if you don't believe us, check out the rather titillating video on their
website
). Stop here on your way home from work for one of their almost birthday suits inspired by vintage designs, and we can see your lady being eager to strip down to nothing and change into whatever you've picked out.
We mean it: we can really see it.